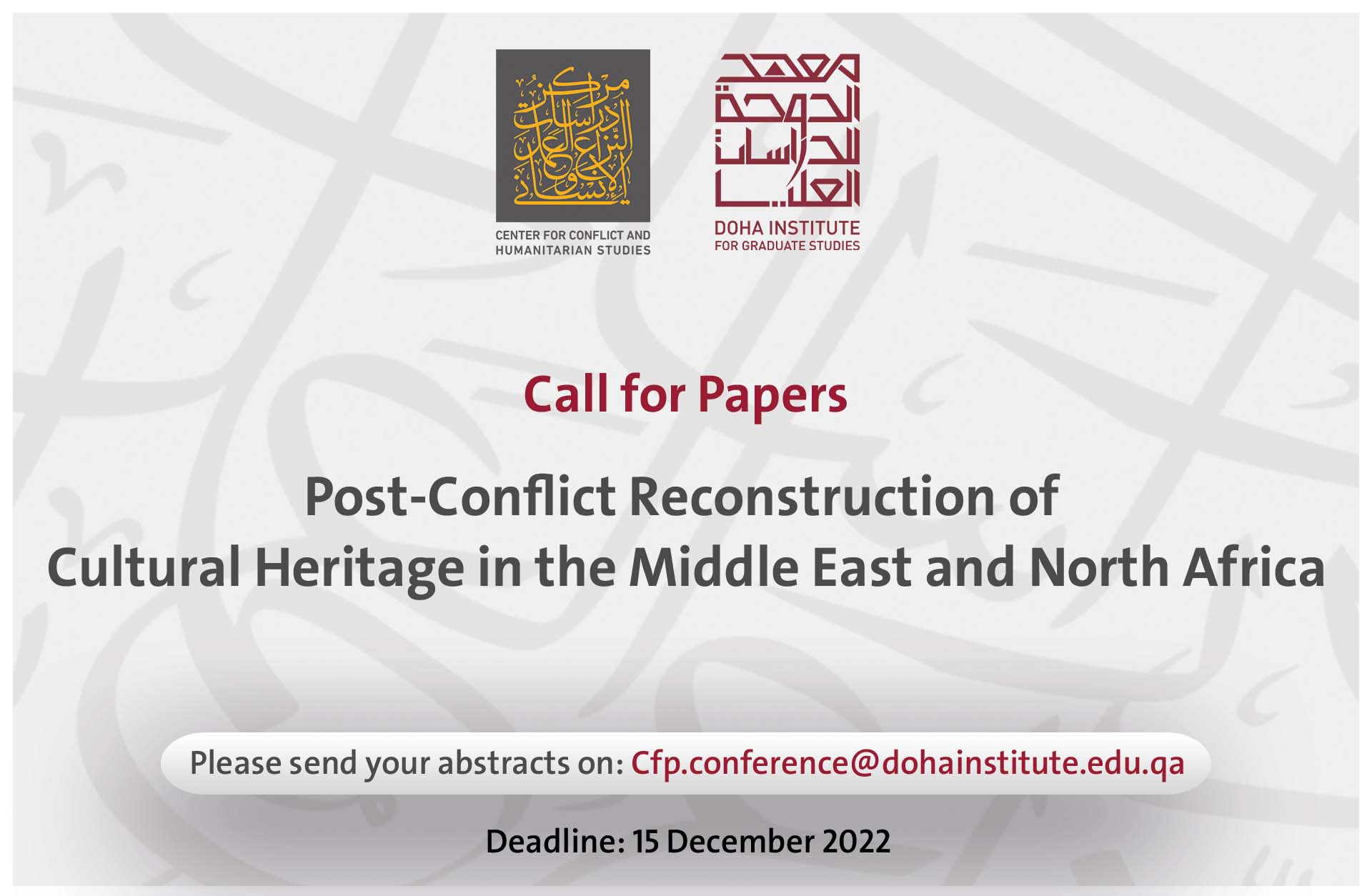 Over the past few decades, the MENA region has been caught up in a succession of political upheavals, deep instability, and armed conflicts. The escalation of tension, and in some cases large-scale violence, in places such as, Iraq, Lebanon, Libya, Palestine, Syria, and Yemen, have affected every single aspect of daily life, whether social, cultural, political, and economic. Cultural heritage sites, monuments, and museums have been severely damaged and looted; hundreds of thousands of people have been killed; millions uprooted and displaced; and decades of developmental progress have been reversed.
This vast scale of cultural heritage destruction over the past decade has created an urgent need for a critical conversation about, and interrogation of, reconstruction and recovery in the region. Reconstruction thinking has been spurred on in the past few years by regional and international efforts to rebuild war-affected heritage sites, monuments, and infrastructure, in historic cities and archaeological heritage sites such as, Aleppo, Mosul, and Palmyra. Whilst these examples have been subject of renewed research interest, the wider task of rebuilding entire cities and countries in MENA in the early 2020s faces the obstacle of lack of success stories of recovery. The conference contributes towards a comparative knowledge base on the obstacles to, and enablers of, heritage reconstruction, management of cultural resources, and recovery of societies in post-conflict MENA. It builds upon the growing academic research agenda that has produced timely and thought-provoking debates on the future of the heritage and culture in post-conflict societies in the region (Meskell 2018[1]; Munawar & Symonds 2022[2]; Newson & Young 2017[3]).
Those wishing to participate can submit papers on any of the following themes: protection and rebuilding of built heritage; cultural management in post-conflict settings; re-production and promotion of cultural memory; silenced and marginalized narratives and contested memories; reconciliation, transitional justice and prosecuting heritage criminals; impact of reconstruction on refugees and internal displacement; state and non-state agency in cultural management and national identity rebuilding; and planning and financing post-conflict reconstruction of cultural heritage.
Continuer la lecture

de « Call for Papers -Post-Conflict Reconstruction of Cultural Heritage in MENA, 7-8 March 2023, Doha Institute for Graduate Studies (deadline : 15 December 2022) »